Rod Hadfield #3
Castlemaine, Victoria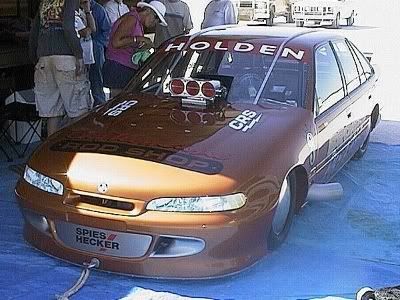 MPH shown in RED is highest speed recorded for that class up and including that year.
Records shown are the highest speed attained for that class from all previous years
or have never had a vehicle register a speed for that class and are considered Open.
Rod is another foundation father of Salt Lakes Racing in Australia. Right from the very start Rod has offered his time and sponsorship to the DLRA. Rod is another from the hot rodding fraternity to be fascinated by the salt, having built some of the classiest and wildest hot rods in Australia.
Over the years he has run a number of vehicles at the salt. The '32 Ford Roadster was originally built as a drag car and was relatively easily converted to a salt lakes racer. The biggest problem during this time was getting the right tyre combination and there was lots of experimentation with gearbox and differential ratios. Rod then bought a rear engined rail and converted it for salt duty. It was in this car that Rod experienced his worst accident, rolling the car and badly damaging his hand. The next car was a running Bonneville Racer a '59 Studebaker Coupe imported from the States, it still required several modifications before turning a wheel at Lake Gairdner. His latest car is the "Bronzed Aussie" Commodore. It is a new car from the ground up and features a full Motec system for monitoring the car and getting the maximum preformance from every component. This car will eventually be powered by the latest version of the "rodent" motor, but for the first year (2001) Rod purchased a motor from Chuck Salmen, unfortunately this threw a rod through the side of the block. Rods aim is to make a return trip to Bonneville with the Commodore and "show these Yanks how it's done!"
Rod was one of 3 Aussies who make up the Aussie AsSalt, "Thunder from Down Under team", going to Bonneville for the 50th Annual Speed Trials in August 1998. Rod took his Studebaker with a motor of his own design based on a big block Chev and destined to be used in the light aircraft industry. The 488 cu.in. "Rodent" motor performed flawlessly, unfortunately the same cannot be said of the gearbox. Fuel starvation problems also restricted the attempt on a 240MPH record with a very respectable 202MPH
| | | |
| --- | --- | --- |
| 2013 | 2013 | 2013 |
| 2013 | 2013 | 2013 |
| 2009 | 2006 | 2006 |
| 2006 | 2006 | 2006 |
| 2005 | 2005 | 2005 |
| 2005 | 2005 | 2005 |
| 2005 | 2005 | 2004 |
| 2003 | 2002 | 2001 |
| 2001 | 2001 | 2001 |
| 2001 | 2001 | 2001 |
| 2001 | 2001 | 2000 |
| 1998 | 1995 | 1994 |
| 1993 | 1991 | 1990 |