Allan Murchison #80
Thunder & Lightening
Barwon Heads, Victoria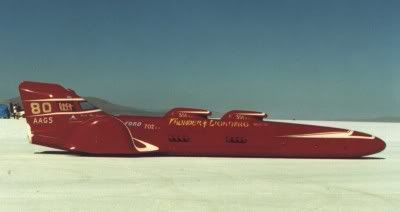 MPH shown in RED is highest speed recorded for that class up and including that year.
Records shown are the highest speed attained for that class from all previous years
or have never had a vehicle register a speed for that class and are considered Open.
Allan earnt his stripes racing roadsters, but always had a streamliner in mind. Thought by many people to be nothing more than a rumor, when Allan brought the streamliner along to the inspection day in Feb 2000, it left more than a few jaws dropped. The whole car was totally built by Allan at home in his garage, except for the motors which were bought shrink-wrapped from John Cain.
| | | |
| --- | --- | --- |
| Allan with Chuck Salmen and Rod Hadfield 1994 | 1994 | 1994 |
| 1994 | 1994 | 1994 |
| 2001 | 2001 | 2001 |