Ray Cooke #237

Medowie New South Wales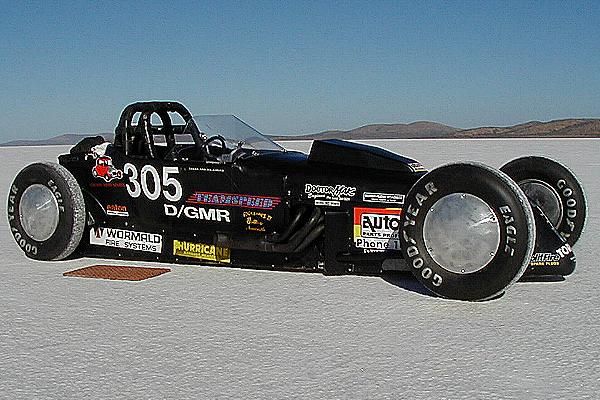 MPH shown in RED is highest speed recorded for that class up and including that year.
Records shown are the highest speed attained for that class from all previous years
or have never had a vehicle register a speed for that class and are considered Open.
Vehicle Specs
Make/Model: 1927 Ford Roadster
Class: D/GMR Wheel base: 120 inch
Wheels: 15 inch/4 inch steel
Tyres: 4.5/28 Goodyear land speed
Motor: 1969 Ford boss, 13.5 to 1 comp, Venolia pistons, eagle rods, steel crank, 4 bolt main, Hi ported 4V heads, single plain manifold, 725 Vav holley carby
Gearbox: Ford top loader
Diff: Hallibrand Champ 3.02 ratio.
Stan Racing is made up mostly of members of the Rickshaws Hot Rod Club. Their aim is to get each member of Team Speed their 150MPH licence. And the're getting closer every year.
Team Members
Neil Jacups - Bus driver and racecar driver
Ray Cooke - Roustabout and racecar driver
Trevor May - Roustabout and racecar driver
Terry Maloney - Cook and racecar driver
Bob Bowman - Car Builder, mechanic and driver
Sponsors / Supporters
United Oil, Wormald Fire Systems, Liverpool Exhaust, Super Flow Heads, Hi Performance World, Dr Mac Engine Reconditioning, Lynx Engineering, Cheaper Auto Spares, Auto Pro - Raymond Terrace.
| | | |
| --- | --- | --- |
| 2013 | 2013 | 2006 |
| 2006 | 2006 | 2006 Stan, Stan, Stan and Stan |
| 2005 | 2005 | 2005 |
| Team Speed Camp 2003 | 2002 | 2002 |
| 2002 | 2001 | 2001 |
| 2001 | 2001 | 2001 |
| Trevor May, Bob Bowman, Animal - 2001 | 2001 | 1999 |
| 1998 | 1998 | 1998 |
| | | |