Speed Week 2023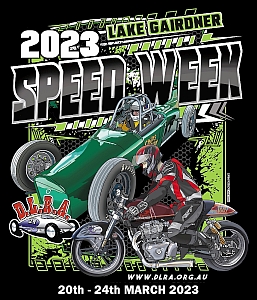 Lake Gairdner South Australia
Monday 20th March to Friday 24th March 2023
The DLRA conducts its annual Speed Week at Lake Gairdner in South Australia. It's straight line speed on "the big white dyno", as fast as you can go on a salt lake in the remote Australian outback. There is no setting like it anywhere in the world, it is a truly unique event in a spectacular location. There is an amazing range of cars, motorcycles and trucks dating from the turn of the century to modern day.
Spectators are welcome, but you need to be pretty much self sufficient.
News
01/11/2022
Pre-Entries are now open for Speed Week 2023.
Roll-overs are available for entrants who entered but did not compete in 2022. But you still have to pay you annual subscription renewal. Go to https://www.dlra.org.au/entryform.htm


01/11/2022
The Volunteer Portal is now open.
People who nominated for a job in 2022 will have received an email informing you that your job nomination will roll-over and then a second email of what that job was.
Go to https://www.dlra.org.au/volunteers/


20/09/2023

2023 DLRA Rulebook final version complete and available online (v1.0)

29/08/2022

DLRA News Issue 79 has now been released

13/08/2022

SFI Notice of NonCompliant Products by TANAKA

10/08/2022

Notice of Products Faslely Represented as Certified to SFI Specification 3.2A by "Trax Racewear LLC"on Facebook

.

08/08/2022
Photos from Glenn Ashby taken on 06/08/2022 https://www.dlra.org.au/2022-01.htm


01/07/2022
Notice of Counterfeit Labels on Substandard Driver Suits and Accessories, Sold by Speedsy Racewear


10/06/2022
Photos from Glenn Ashby taken on 09/06/2022 https://www.dlra.org.au/2022-01.htm


13/05/2022
Photos of the Lake by Russell Reading taken on 20/04/2022 https://www.dlra.org.au/2022-01.htm


11/05/2022
Aerial photos of the lake from Phil Cvirn 04/05/2022 https://www.dlra.org.au/2022-01.htm


02/05/2022

GOLDEN TICKET

New for 2023, the idea for the Golden Ticket came about as a way to raise / retain funds for the club and provide something that the entrants have been asking for.
Any previous entrant from a cancelled Speed Week with fees held by the club now has the option to forfeit their entry fee in return for a golden ticket which entitles them to enter a daily draw. The draw will take place on the Sunday afternoon prior to Speed Week and 5 names will be drawn out, one for each consecutive day of racing. The lucky winners will be entitled to be the first vehicle off the start line on that day. A Golden Ticket can be transferrable to another entrant, officials must be notified prior to the ticket being presented. Just contact the Secretary to let us know you want to take part.

30/04/2022

DLRA News Issue 78 has now been released

25/04/2022
Outback Road Warnings 8.17 AM Iron Knob Road Temporarily closed due to rains - reassess Wed 27/04


19/04/2022
Photos of the lake from Trevor Beck Easter 2022 https://www.dlra.org.au/2022-01.htm


04/03/2022
Photos of the lake from Vincent Racing Team https://www.dlra.org.au/2022-01.htm


29/01/2022

Helmets with a Snell rating label of 2010 have now expired on January 1, 2022.

Helmets with a SA2015 or M2015 still have 4 years of life left. If you are buying a new helmet, look for the SA 2020 or M2020 certification.
Current FIM Homologation or European ECE 22.05 or E 22.05, 2010 or Australian/New Zealand Standard AS/NZS 1698:2006 or newer.
NOTE: Most new helmets are dimensionally larger to meet the higher protection requirements in the new standards. We advise you to check the fit of the new helmet inside the roll cage structure of your vehicle. Rule 3.B.1 requires "a front hoop of the roll cage shall be at least three (3) inches in front of the driver while the driver is in his normal driving position."

29/01/2022

Speed Week 2022 Entrants have the option to roll over their fees to the 2023 event, but they still need to complete a Speed Week 2023 Entry Form.
Sponsors
We are currently pursuing Sponsors for this event, if you or your organisation are looking for a great event to support please read the Sponsors Information
To enter Speed Week
Join, or renew, your membership


• You must be a DLRA member to enter Speed Week
• There is a once off joining fee to be a member of the club, this includes subscription for that year.
• Existing members will be receive a renewal notice to pay their annual subscription.

Complete your entry on-line (or download a form)


• First thing to do is nominate for your VOLUNTEER DUTY When you apply on-line you will be given a code to use on your entry form. If you don't apply on-line nominate for a job and a day and this will be confirmed by the coordinator.


(Your entry form is not compete without nominating for at least one job)

• Entry Form Clearly filled out & signed by Owner & Drivers / Riders.
• Secondary Drivers / Riders to fill out and sign Secondary Drivers / Riders Form

• If you are competing with same vehicle in another class, fill out the Additional Class entry form (to qualify for an entry discount)
• Double Check your Computer Codes for engine and class on your Entry Form .
• Medical Forms completely filled out, boxes checked, signed & dated.
• Entry form is not complete until payment has cleared
• it is mandatory for all entrants to complete a Fuel Storage Register and attach the relevant Safety Data Sheets to their entry.
Stickers and placards are available from DLRA Merchandise.


then when you get to the salt, set up in the pits, and then



• Registration Van opens Friday afternoon and then 7.00am till 6.00pm each day.


• All Entrants (no substitutes) must present at Registration to pick up your entry pack containing a copy of your entry, a tech inspection sheet, program, wrist bands. Highly recommended for crew to attend as well.
• New vehicles issued with DLRA Log Book.
• New Entrants (Rookies) Issued with DLRA License.
• Listen to the Entrant briefing and Rookie Orientation presentation.
• No Alcoholic Beverages in Registration area during business hours.

Go to Technical Inspection


• Tech Inspection opens Friday Afternoon

• You must take your

DLRA Vehicle Log Book

• All Drivers / Riders with their personal safety gear must present at

Tech Inspection

. Remember to check the compliance labels and dates on your gear.

•

Tender vehicle

s must be presented at the same time for inspection, fitted with all safety equipment.

• Return Inspection Sheet(s) to Registration to get your Inspection Sticker, no sticker - no race

• No Alcoholic Beverages in Inspection area during business hours

Attend the Entrants Briefing


• All Entrants must attend the Entrants briefing held at the Tech Inspection Area in the pits at 4.00pm. on the Sunday afternoon. After the briefing there will be a drive of the track.

Rookies

or first time entrants will also have to attend a

separate briefing
PRE-ENTRIES

Entries for the 33rd Annual 2023 Speed Week will open in October 2022. As entries are received they will be added to this list.

Pre-Entries will close approx 1 month prior to the event, late entries incur a late entry fee after that date.
Record Speeds shown in BLUE are the highest speed attained for that class from all previous years
or have never had a vehicle register a speed for that class and are considered Open.
Speeds shown to 3 decimal places, speeds to be confirmed by Timer.
P.B. (Personal Best) is for that entrant, in that class.
VR* - those entrants marked with an "*" have nominated for the Volunteers Register (Note: All entrants are expected to nominate for at least one shift doing something)
Not Active - these entrants have not paid their 2023 DLRA subscription fee yet. Their results will not be recorded in the official results until such time that the fees are paid. Members can pay their fees at the Registration Caravan in the pits.
Member #
Name
Rookie
Not
Active
VR *
Vehicle #
Vehicle
Type
Vehicle
Engine
Type
Eng
Code
Body
Class
Body
Code
Colour
Class
PB
Record
Thank you to our very generous and supportive Speed Week Sponsors
Interested in becoming a sponsor? Contact our Marketing Manager - marketing@dlra.org.au
Learn more...
Support the DLRA
Promote your business by advertizing in the DLRA Newsletter