Speed Week 2022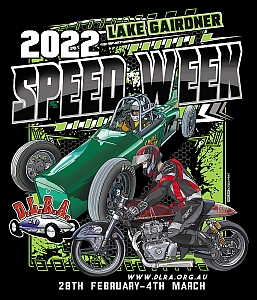 Lake Gairdner South Australia
Monday 28th February to Friday 4th March 2022
The DLRA conducts its annual Speed Week at Lake Gairdner in South Australia. It's straight line speed on "the big white dyno", as fast as you can go on a salt lake in the remote Australian outback. There is no setting like it anywhere in the world, it is a truly unique event in a spectacular location. There is an amazing range of cars, motorcycles and trucks dating from the turn of the century to modern day.
Spectators are welcome, but you need to be pretty much self sufficient.
News
01/11/2021
South Australia Covid-19 Restrictions update: Internally they are currently at Level 1 which is just above no restrictions at all. International arrivals are required to undergo 14 day quarantine along with days 1, 5 and 13 testing. Interstate travellers are required to complete border registration and check-in with SA Police. Currently Victoria, ACT and New South Wales travellers are prohibited from entering South Australia.
South Australia will ease its border restrictions for double-vaccinated people from November 23 and there will be 7 days quarantine for vaccinated international travellers, 14 days for unvaccinated authorised arrivals. COVID-19 management plans remain.
01/10/2021
Entry forms and tickets for Speed Week 2022 released
16/06/2021
Entry forms and tickets for Speed Week 2022 will be released in October 2022
COVID-19
All participants entering the the lake must sign in on the CONTACT TRACING RECORD and provide the date and time that they attended Speed Week as well as their name, phone number, and email address. This information will be used for the purposes of contract tracing only and will not be shared or sold to a third party.
If you cannot or choose not to provide your details and sign the agreement, access to the event will respectfully be refused.
Sponsors
We are currently pursuing Sponsors for this event, if you or your organisation are looking for a great event to support please read the Sponsors Information
To enter Speed Week
Join, or renew, your membership


• You must be a DLRA member to enter Speed Week
• There is a once off joining fee to be a member of the club, this includes subscription for that year.
• Existing members will be receive a renewal notice to pay their annual subscription.

Complete your entry on-line (or download a form)


• First thing to do is nominate for your VOLUNTEER DUTY When you apply online you will be given a code to use on your entry form. If you don't apply online nominate for a job and a day and this will be confirmed by the coordinator.


(Your entry form is not compete without nominating for at least one job)

• Entry Form Clearly filled out & signed by Owner & Drivers / Riders.
• Secondary Drivers / Riders to fill out and sign Secondary Drivers / Riders Form

• If you are competing with same vehicle in another class, fill out the Additional Class entry form (to qualify for an entry discount)
• Double Check your Computer Codes for engine and class on your Entry Form .
• Medical Forms completely filled out, boxes checked, signed & dated.
• Entry form is not complete until payment has cleared
• it is mandatory for all entrants to complete a Fuel Storage Register and attach the relevant Safety Data Sheets to their entry.
Stickers and placards are available from DLRA Merchandise.


then when you get to the salt, set up in the pits, and then



• Registration Van opens Friday afternoon and then 7.00am till 6.00pm each day.


• All Entrants (no substitutes) must present at Registration to pick up your Entrant Pack containing a copy of your entry, a tech inspection sheet, program, wrist bands. Highly recommended for crew to attend as well.
• New vehicles issued with DLRA Log Book.
• New Entrants (Rookies) Issued with DLRA License.
• Listen to the Entrant and Rookie Orientation presentation.
• No Alcoholic Beverages in Registration area during business hours.

Go to Technical Inspection


• Tech Inspection opens Friday Afternoon

• You must take your

DLRA Vehicle Log Book

• All Drivers / Riders with their personal safety gear must present at

Tech Inspection

. Remember to check the compliance labels and dates on your gear.

•

Tender vehicle

s must be presented at the same time for inspection, fitted with all safety equipment.

• Return Inspection Sheet(s) to Registration to get your Inspection Sticker, no sticker - no race

• No Alcoholic Beverages in Inspection area during business hours

Attend the Entrants Briefing


• All Entrants must attend the Entrants briefing held at the Tech Inspection Area in the pits at 4.00pm. on the Sunday afternoon. After the briefing there will be a drive of the track.

Rookies

or first time entrants will also have to attend a

separate briefing
PRE-ENTRIES

Entries for the 32nd Annual 2022 Speed Week will open in October 2021. As entries are received they will be added to this list.

Pre-Entries will close approx 1 month prior to the event, late entries incur a late entry fee after that date.
Record Speeds shown in BLUE are the highest speed attained for that class from all previous years
or have never had a vehicle register a speed for that class and are considered Open.
Speeds shown to 3 decimal places, speeds to be confirmed by Timer.
P.B. (Personal Best) is for that entrant, in that class.
VR* - those entrants marked with an "*" have nominated for the Volunteers Register (Note: All entrants are expected to nominate for at least one shift doing something)
Not Active - these entrants have not paid their 2022 DLRA subscription fee yet. Their results will not be recorded in the official results until such time that the fees are paid. Members can pay their fees at the Registration Caravan in the pits.
Member #
Name
Rookie
Not
Active
VR *
Vehicle #
Vehicle
Type
Vehicle
Engine
Type
Eng
Code
Body
Class
Body
Code
Colour
Class
PB
Record
178
Ronnie Stayt
PSI0122
178
2002 ZX12 Kawasaki
MOTORCYCLE
1350cc
211
MPS-BF
460
Black
1350 MPS-BF
215.221
235.740
519
Richard Assen
SUT0422
519
2016 Assen
MOTORCYCLE
1350cc
211
APS-BF
409
Grey
1350 APS-BF
213.943
212.477
965
Skip Telford
965
1966 Volkswagen
CAR OR TRUCK
G
109
BGCC
309
Black
G/BGCC
113.205
122.440
1203
Rebecca Robinson
BTECH0222
1203
Suzuki 1000
MOTORCYCLE
1000cc
210
MPS-G
463
Black/Pink
1000 MPS-G
166.282
201.975
1212
Matt Read
MCH1022
1212
1994 BMW
CAR OR TRUCK
F
108
PRO
346
White
F/PRO
168.856
168.856
1212
Matt Read
MCH1022
91212
1994 BMW
CAR OR TRUCK
F
108
GCC
332
White
F/GCC
-
Open
1218
Jean-Paul Afflick
SUT10222
1218
2020 Afflick
MOTORCYCLE
50cc
201
APS-F
411
Top 1 Oil BLUE
50 APS-F
96.875
96.875
1275
Peter Max
MCH2122 MCH2222
1275
1994 Mercedes
CAR OR TRUCK
C
105
GT
337
Dark Blue
C-GT
-
Open
1291
Martin Powditch
SUT20122
1291
2008 Suzuki
MOTORCYCLE
250cc
205
APS-F
411
Blue
250 APS-F
-
Open
1379
Bruce Cooper
CTECH0522
1379
1936 Hudson Terraplane sedan
CAR OR TRUCK
B
104
CBFALT
364
Black
B/CBFALT
-
Open
1380
Steven Tatt
MCH0522
1380
1981 HONDA
MOTORCYCLE
1350
211
M-CG
513
Silver
1350 M-CG
91.296
91.296
1381
John Harvey
CTECH0522
1381
1936 Hudson Terraplane sedan
CAR OR TRUCK
B
104
CBFALT
364
Black
B/CBFALT
195.635
Open
1382
Darren Banks
CTECH0622
1382
1936 Hudson Terraplane sedan
CAR OR TRUCK
B
104
CBFALT
364
Black
B/CBFALT
200.879
Open
1393
Nikki Brearley
MCH0121
1393
1987 Honda
MOTORCYCLE
250cc
205
A-G
404
Black
250 A-G
97.089
97.089
1393
Nikki Brearley
MCH0121
91393
1987 Honda
MOTORCYCLE
250cc
205
A-F
403
Black
250 A-F
-
103.591
1396
Robert Brown
1396
1978 Suzuki GP100
MOTORCYCLE
100cc
202
P-P
425
Blue
100 P-P
54.5
74.715
1408
Jon Guidera
1408
2011 Suzuki
MOTORCYCLE
750cc
209
M-G
455
Blue
750 M-G
170.940
163.368
1446
John Castles
PS10122
1446
2004 Honda
MOTORCYCLE
500cc
207
M-F
454
Red
500 M-F
105.637
121.237
1557
Michael Blackall
T1PU22
1557
2018 BMW S1000 RR
MOTORCYCLE
1000cc
210
MPS-G
463
White/Red/Blue
1000 MPS-G
173.808
201.975
1610
Justin Moore
R
1610
1986 Yamaha Solo
MOTORCYCLE
175cc
204
P-PC
500
Blue
175 P-PC
-
Open
1632
Richard Harding
1632
1981 Yamaha
MOTORCYCLE
350cc
206
M-F
454
Blue
350 M-F
-
Open
1633
Russell Harding
1633
1981 Yamaha
MOTORCYCLE
250cc
205
M-G
455
Orange
250 M-G
-
120.417
1655
Thomas Weitcher
1655
2016 Suzuki
MOTORCYCLE
1350cc
211
P-P
425
Black
1350 P-P
-
209.839
1709
Andrew Butcher
BTECH0122
1709
1925 Triumph
MOTORCYCLE
500cc
207
M-VBG
473
French Grey
500 M-VBG
-
Open
1745
Mark Goodchild
1745
1983 Suzuki
MOTORCYCLE
750cc
209
P-PC
500
Silver/Blue
750 P-PC
-
Open
1764
Murray Johnson
R
SL20322
1764
1993 Honda
MOTORCYCLE
250cc
205
A-BG
402
Red
250 A-BG
-
Open
1764
Murray Johnson
R
SL20322
91764
1993 Honda
MOTORCYCLE
250cc
205
APS-BG
410
Red
250 APS-BG
-
Open
Thank you to our very generous and supportive Speed Week Sponsors
Interested in becoming a sponsor? Contact our Marketing Manager - marketing@dlra.org.au
Learn more...
Support the DLRA
Promote your business by advertizing in the DLRA Newsletter