Speed Week 2024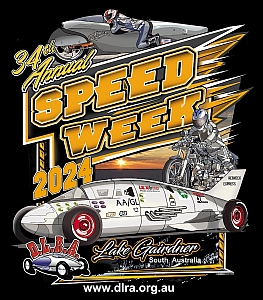 Lake Gairdner South Australia
Monday 11th March to Friday 15th March 2024
The DLRA conducts its annual Speed Week at Lake Gairdner in South Australia. It's straight line speed on "the big white dyno", as fast as you can go on a salt lake in the remote Australian outback. There is no setting like it anywhere in the world, it is a truly unique event in a spectacular location. There is an amazing range of cars, motorcycles and trucks dating from the turn of the century to modern day.
Spectators are welcome, but you need to be pretty much self sufficient.
News
Sponsors
We are currently pursuing Sponsors for this event, if you or your organisation are looking for a great event to support please read the Sponsors Information
To enter Speed Week
Join, or renew, your membership
• You must be a DLRA member to enter Speed Week
• There is a once off joining fee to be a member of the club, this includes subscription for that year.
• Existing members will be receive a renewal notice to pay their annual subscription.
Complete your entry on-line (or download a form)


• Entry Form Clearly filled out & signed by Owner & Drivers / Riders.
• Secondary Drivers / Riders to fill out and sign Secondary Drivers / Riders Form

• If you are competing with same vehicle in another class, fill out the Additional Class entry form (to qualify for an entry discount)
• Double Check your Computer Codes for engine and class on your Entry Form .
• Medical Forms completely filled out, boxes checked, signed & dated.
• Entry form is not complete until payment has cleared
• Nominate for your VOLUNTEER DUTY (Your entry form is not compete without nominating for at least one job)
• it is mandatory for all entrants to complete a Fuel Storage Register and attach the relevant Safety Data Sheets to their entry.
Stickers and placards are available from DLRA Merchandise.


then when you get to the salt, set up in the pits, and then



• Registration Van opens Friday afternoon and then 7.00am till 6.00pm each day.


• All Entrants (no substitutes) must present at Registration to pick up your Entrant Pack containing a copy of your entry, a tech inspection sheet, program, wrist bands. Highly recommended for crew to attend as well.
• New vehicles issued with DLRA Log Book.
• New Entrants (Rookies) Issued with DLRA License.
• Listen to the Entrant and Rookie Orientation presentation.
• No Alcoholic Beverages in Registration area during business hours.

Go to Technical Inspection
• Tech Inspection opens Friday Afternoon
• You must take your DLRA Vehicle Log Book
• All Drivers / Riders with their personal safety gear must present at Tech Inspection. Remember to check the compliance labels and dates on your gear.
• Tender vehicles must be presented at the same time for inspection, fitted with all safety equipment.
• Return Inspection Sheet(s) to Registration to get your Inspection Sticker, no sticker - no race
• No Alcoholic Beverages in Inspection area during business hours
Attend the Entrants Briefing
• All Entrants must attend the Entrants briefing held at the Tech Inspection Area in the pits at 4.00pm. on the Sunday afternoon. After the briefing there will be a drive of the track. Rookies or first time entrants will also have to attend a separate briefing
PRE-ENTRIES

Entries for the 34th Annual 2024 Speed Week are now open. As entries are received they will be added to this list.

Pre-Entries will close 26th February 2024, late entries incur a late entry fee after that date.
Record Speeds shown in BLUE are the highest speed attained for that class from all previous years
or have never had a vehicle register a speed for that class and are considered Open.
Speeds shown to 3 decimal places, speeds to be confirmed by Timer.
P.B. (Personal Best) is for that entrant, in that class.
VR* - those entrants marked with an "*" have nominated for the Volunteers Register (Note: All entrants are expected to nominate for at least one shift doing something)
Not Active - these entrants have not paid their 2024 DLRA subscription fee yet. Their results will not be recorded in the official results until such time that the fees are paid. Members can pay their fees at the Registration Caravan in the pits.
Member #
Name
Rookie
Not
Active
VR *
Vehicle #
Vehicle
Type
Vehicle
Engine
Type
Eng
Code
Body
Class
Body
Code
Colour
Class
PB
Record
Learn more...
Support the DLRA
Promote your business by advertising in the DLRA Newsletter