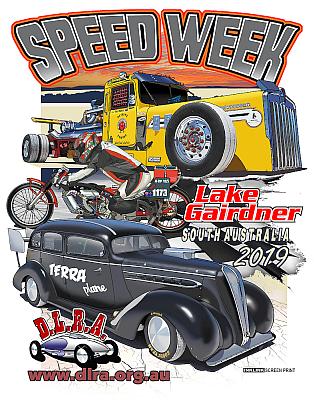 Speed Week 2019
Lake Gairdner South Australia
Monday 4th March to Friday 8th March 2019
The DLRA conducts its annual Speed Week at Lake Gairdner in South Australia. It's straight line speed on "the big white dyno", as fast as you go on a salt lake in the remote Australian outback. There is no setting like it anywhere in the world, it is a truly unique event in a spectacular location. There is an amazing range of cars, motorcycles and trucks dating from the turn of the century to modern day.
Spectators are welcome, but you need to be pretty much self sufficient.
NEWS
11/03/2019

When I get home, there is a process for me to follow.
Firstly I check that each entrant has done their volunteering as this is a pre-requisite for having your results published.
At this time, entrants who have not been checked off as having done a job will be contacted to determine why they did not volunteer or their name was not checked off.
This is a very important step as we cannot run Speed Week without our volunteers and there are no free rides.



Then when the timers get home, they will send me the raw results which will be published as PRELIMINARY results on the web site. I'm sure there will be entrants contact me at this time with a whole heap of questions. Usually related to not having their inspected sticker displayed instead of their team mates or incorrect class details when they have not notified me after a change of class was required at Technical Inspection. Everyone of these will need to be resolved, confirmed and maybe the results amended.



Then I will check the Impound books and check the records that have been documented there.



Then I will be formatting the results into the same format as shown for previous years. Once again checking for any records that may have been set.



Then 200 mph Achievers and club members will be identified and we will make a presentation at the first General Meeting in Melbourne in May.



Finally certificates are then produced for all entrants.
Entrants who have set an Australian class record will have the word RECORD next to their speed.
Only when all these issues have been resolved will I consider printing and distributing certificates. Do not expect anything until at least July.

21/02/2019
Pre-Race Lake Inspection Report - Michael Brixton, Peter Noy, Korey Bligh and Steve Vorwerk were on the lake today and found it to be in very good condition, hard, dry and flat.
This confirms that Speed Week 2019 is most definitely on.
18/02/2019
Please do not post or email your late entry now, bring it with you to the salt. Make sure you have completed the Hazardous Fuel Register Section. And have 2 copies of the Materials Safety Data Sheets.
Same goes for Volunteer Nominations.
14/02/2019
Mt. Ive Homestead rooms are booked out, but plenty of powered and un-powered camp sites still available. (See page for rates)
14/02/2019
Discount accommodation in Port Augusta
The Discovery Parks Port Augusta (previously Big 4) are once again helping Speed Week out with a great 15% off deal on all accommodation at their park. Just mention DLRA Speed Week to qualify for the deal.

14/02/2019
Still a few pre-entries to put into the system, but looks like a very similar number to last year so far we have 220 and last year we had 232. Just hope that Huey has answered my prayers and we are all good.
14/02/2019

IRON KNOB HOTEL IS OPEN

Hi guys just wanted to let you know we are trading 7 days a week, meals from open to close daily specials $12 and accommodation $55 double. Ice available, good luck and look forward to catching up. Thanking you Michelle Rushworth Licensee.

11/02/2019
PRE-ENTRIES CLOSED ON Sunday 10th February 2019
Late Entries with the additional fee included, will still be accepted via the mail up until C.O.B. Friday 15th February 2019
After this date, just bring your entry form with you to Registration at Speed Week
Download an Entry Form - https://www.dlra.org.au/entryform.htm
06/02/2019
And probably the second most important thing is what's to eat at the Canteen? This year Dogga and Robyn have done a fantastic job of providing a fantastic number of choices and kept the prices very reasonable, when you think where we are. I urge you all to support our caterers and check out the menu.
04/02/2019
As most people are aware, PRE-ENTRIES close on the Sunday 10th February 2019. So any entries received after midnight that will be considered LATE ENTRIES.
Now, the closing date for postal entries is the Friday 15th February 2019 as we will be leaving just days after this date. So if you still haven't got your entry in the mail so that it will reach us by close of business Friday, just hang on to it and give it to us at the salt.
03/02/2019
The DLRA ANNUAL GENERAL MEETING will be held one month from today on Sunday 3rd March 2019 on Lake Gairdner in the pits at the Technical Inspection Area at 4.00pm. Members and visitors are welcome. Bring a chair, some drinks and some shade. 

After the AGM will be the ENTRANTS BRIEFING it is compulsory for all entrants to attend this meeting, if you are not there for what ever reason there will be a second Entrants Briefing on the Monday, time to be announced when you pick up your Entrants Pack from Registration.

After the Entrants Briefing there will be a compulsory ROOKIES MEETING followed by a drive of the tracks where all the various features will be explained to you.

Registration will close at 3.30pm on the Sunday to prepare for the AGM and NOT re-open until Monday morning.

First thing Monday morning all Rookies are to report direct to Track 2 start line for their Rookie Run. If you are a Rookies please do your very best to be there Monday morning as it will make the whole event run much smoother.

Thanks, and I hope we all enjoy ourselves out there.
23/01/2019
Issue 64 (February) of the DLRA Newsletter published
07/01/2019

WrightsAir will be conducting commuter , joy and charter flights and landing at the lake again in 2019. More information available on the WrightsAir page.
24/10/2018

2019 DLRA Rulebook: Is now available for download from the Rulebook page.

06/10/2018

World Speed Trials: We have been asked several times if there will be an international event in 2019, the answer is no and the reason is simple, it's too much to expect DLRA officials to give up 2 weeks of their holidays or leave without pay every year, and it wears these people out. Hope you understand the work and dedication involved in putting on an event like this. We are already working towards a combined FIA & FIM meet for 2020.

06/10/2018

New Classes: There have been a number of new classes introduced for cars and bikes. There is now a category for NASCAR styles from 1948 through to 2013, AUSCAR's from all years and Supercars from 1991 to current. All these cars will pretty much run as they are / were with some modifications to roll bars and other safety equipment. They will run the same configuration and engines as they did in the day. There is potential to open-up more classes for circuit style competition vehicles in the future.
For the bikes we have the introduction of a Trike category.
See the 2019 rulebook for more details.




05/10/2018

Introduction of Australian Records: One of the big changes for 2019 is that we will be moving from one pass records to two-run average speed records.
So you will now have a qualifying run to try and break the existing record, if successful, you then have to break the record again on a second, record run.
NOTE: The two speeds have to be over the same mile.
All existing records will effectively roll over to become the minimum requirement for the new records. The main reason for wanting to do this is to put DLRA records closer to an even playing field with other countries records. To facilitate these new record runs, track 2 will now provide a measured mile of timing. And we will be introducing an impound where vehicles that have qualified for a record will be checked and garaged until they are ready to make their record attempt. There will be a conditional exemption for vehicles with multiple
entrants to compete their record attempt in a timelier fashion.
More information will be available in the 2019 Rulebook when it is published




23/09/2018

Speed Week Entries: The On-line Entry portal is now up and running, entrants can apply and pay on-line, payment options for lake entry, DLRA camping and t-shirts

23/08/2019

Volunteers Register: The Volunteers Register is now open for 2019. All entrants must nominate for at least one job during Speed Week. Members and supporters are more than welcome to nominate as well, we can't run an event without our amazing volunteers.

14/08/2018

Entry Forms: 2019 Speed Week Entry forms are now available for download.

14/08/2018

Track Layout Maps: New layout maps for tracks, start line and pits have now been published. Please take some time and check them out for what has changed. Weather and conditions permitting, Track 2 will now offer a full timed mile.

12/08/2018

Fuel Storage Register: To comply with Australian and South Australian Work-safe Regulations the DLRA will be introducing some changes in 2019.
It will be a mandatory part of Speed Week Entry form to attach a Fuel Storage Register and relevant Safety Data Sheets for each type of hazardous fuel stored and used within an Entrants pit. There are also regulations as to how fuel must be stored. The entrants pit will also be required to placarded with warning signs for each hazardous fuel type and the entrants vehicle will be required to display sign-age indicating the type of hazardous fuel used. Failure to comply with these regulations will result in an entrants entry not being accepted for Speed Week.

11/08/2018

Volunteers Register: The 2019 Volunteers Register is now open. You can view all the jobs and see what work is involved. All entrants must volunteer for at least one session over Speed Week. Supporters and other interested people are more than welcome to nominate for a job, it's great way to meet people and help with the event. There are many jobs where you don't need specific skills. But if you have experience in a particular area we'd love to hear from you too.

20/07/2018

Issue 62 (July) of the DLRA Newsletter published

NEW!! Timing Plaques are back!!

Speed Week Entrants can now order an engraved timing plaque with their results on it.
To enter Speed Week
Join, or renew, your membership


• You must be a DLRA member to enter Speed Week

• There is a once off

joining fee

to be a member of the club, this includes subscription for that year.

• Existing members will have received a renewal notice to pay their annual subscription or have the opportunity to pay as part of their entry..

Complete your entry on-line (or download a form)


• Entry Form to be clearly filled out & signed by Owner & Driver or Rider.
• Secondary Driver(s) or Rider(s) must fill out and sign their own entry form.
• Double Check the Computer Codes for your CAR or BIKE on your Entry Form .
• The Medical Forms must be completely filled out, boxes checked, signed & dated.
• Entry form is not complete until payment has cleared.
• Nominate for your VOLUNTEER DUTY
• NEW for 2019, it will be mandatory for all entrants to complete a Fuel Storage Register and attach the relevant Safety Data Sheets to their entry.
Entry forms that are incomplete will be returned to you.


then when you get to the salt, set up in the pits, and then



• Registration Van opens Friday.
• Pick up your Entrant Pack containing a copy of your entry, a tech inspection sheet, a program, your entrant wrist band and crew wrist bands

• All entrants must pick up their own pack at Registration in case there is any last minute information or questions about your entry.
• New vehicles issued with DLRA Log Book.
• New Entrants (Rookies) Issued with DLRA License.

• Listen to the Entrant and Rookie Orientation presentation.
• No Alcoholic Beverages in Registration area during business hours.

Go to Technical Inspection


•

Tech Inspection

opens Friday Afternoon

• You must take your

DLRA Vehicle Log Book

• All Drivers or Riders are to present at

Tech Inspection

with their personal safety gear. Remember to check the compliance labels and dates on your gear.

•

Tender vehicle

s must be presented at the same time for inspection, fitted with all safety equipment as required.

• After your vehicle is inspected, return the Inspection Sheet(s) to

Registration

to be given your Inspection Sticker, no sticker - no race

• No Alcoholic Beverages in

Tech Inspection

area during business hours

Attend the Drivers Briefing


• All Entrants must attend the

drivers briefing

held at the

Tech Inspection

Area in the pits at 4.00pm. on the Sunday afternoon. A roll of entrants will be called, if your name is not ticked off, you cannot race until you have attended a briefing.

After the

drivers briefing

there will be a drive of the track.

Rookies

or first time entrants may have to attend a

separate briefing
PRE-ENTRIES
Entries for the 29th Annual 2019 Speed Week are now open. As completed entries are received they will be added to this list.
Pre-Entries will close on 10/02/2019, late entries incur a late entry fee after that date.
Record Speeds shown in GREEN are the highest speed attained for that class from all previous years
or have never had a vehicle register a speed for that class and are considered Open.
Speeds shown to 3 decimal places, speeds to be confirmed by Timer.
* indicates speed was wind assisted, not eligible for a record.
Personal Best; is the personal best speed for that entrant, in that class.
Those entrants marked with an "Y" have nominated for the Volunteers Register (Note: All entrants are expected to nominate for at least one shift doing something)
Not Active - these entrants have not paid their 2019 DLRA subscription fee yet. Their results will not be recorded in the official results until such time that the fees are paid. Members can pay their fees at the Registration Caravan in the pits.
Thank you to our very generous and supportive Speed Week Sponsors
Interested in becoming a sponsor? Contact our Marketing Manager - marketing@dlra.org.au
Learn more...
Acknowledgment of Country

We acknowledge and respect the Traditional Custodians whose ancestral lands we live and work upon and we pay our respects to their Elders past and present. We acknowledge and respect the deep spiritual connection and the relationship that Aboriginal and Torres Strait Islander people have to Country.

We also pay our respects to the cultural authority of Aboriginal and Torres Strait Islander people and their nations in South Australia, as well as those across Australia.